Click the Book Online button to book your time slot to come and have some fun at Brighton Footgolf
---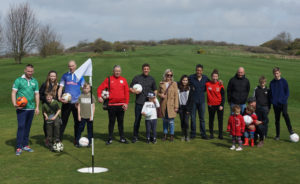 We have tried to make Brighton Footgolf accessible and affordable to everyone, meaning we want to give people a chance to have some fun and try out our amazing footgolf course.
9 holes of footgolf per Person
Under 16 only £5
Adults only £11
18 holes of footgolf per person
Under 16 only £8
Adults only £16
*£1 to hire one of our specially designed footgolf balls*
Our special Footgolf balls can be provided in either size 3 or 4 or 5 and come in 5 different colours which we hire for only £1 per ball. However, you are more than welcome to bring your own football to use should you wish.
Scorecards and pencils are provided free of charge, so you can take them away with you and challenge yourself to better your score next time.
Student Discount
Of course! We look after all of you students with rates from only £7. Must have proof of ID
Senior Citizens
We offer a 10% discount for all you over 65s!
Groups
Group sizes of 12+ benefit from a 10% discount Tuesday to Thursday during school terms. (Not applicable to stag groups or parties)
Birthday Parties
Every birthday party package is bespoke to you and your budget. Some of our services include; food, drinks, chaperone, decorations, party bags and a personalised football for the birthday boy/girl!
Give us a call on 01273 761001 to discuss with us further, or send an email to richard@brightonfootgolf.com.
"I just wanted to say a big that you to you and Amy, for making Rupert's birthday one that he will never forget. I am sure that his mates will always remember it too as it was a first for all of them."
"Making special memories is what is all about for us and you all made that happen today and we are extremely grateful."
"Your friendly calls before hand and the warm welcome that we received on arrival, make all the difference and just makes that whole process so much easier and enjoyable, and it make us want to return even more."
Stag groups
Want to kick off your stag party in style? We are a 10 minute taxi from the heart of Brighton, and are well-connected via main roads.  Again give us a call on 01273 761001 , or ping over an email to richard@brightonfootgolf.com to discuss options. We will endeavour to make some fun memories for the groom to be!
"Just a short note to thank you for providing a wonderful experience for our Stag Group on Saturday. It was a great way for everyone to get to know each other as we went 'round the 18 holes and set ourselves up nicely for a superb evening in Brighton."
*Please note we do ask for a deposit on parties and stag groups*