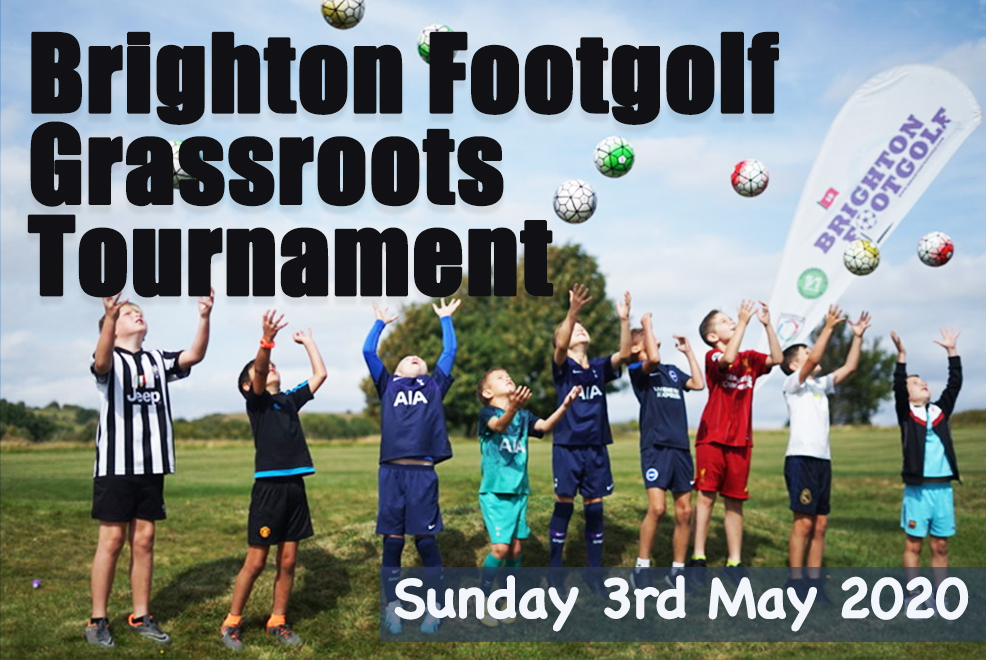 Date: Sunday 3rd May 2020

Location: Brighton Footgolf, Hangleton Lane, BN3 8EB

Times:
| | | | | |
| --- | --- | --- | --- | --- |
| Age Group | Arrival/Registration | Start Time | End Time | Presentation |
| U7's | 9:45am | 10:00am | 11:00am | 11:15am |
| U8's | 10:45am | 11:00am | 12:00pm | 12:15pm |
| U9's | 11:45am | 12:00pm | 1:00pm | 1:15pm |
| U10's | 12:45pm | 1:00pm | 2:00pm | 2:15pm |
| U11's | 1:45pm | 2:00pm | 3:00pm | 3:15pm |
| U12's | 2:45pm | 3:00pm | 4:00pm | 4:15pm |
Price:

Earlybird Special £20 per team of 4 (£5 per player) – Book during March 2020
Or
£24 per team of 4 (£6 per player)

Overview of tournament:

Teams of 4 pit their footgolf skills against each other to find out who are the champions. Each team will then be split into 2 pairs, and then play alternate shots on each hole. The aim is to get the ball into the hole with the least number of shots.
The team with the fewest number of shots will be crowned champions
The winning team will receive special medals.

Number of Teams
Maximum of 18 teams of 4 per age group. Clubs can enter more than one team per age group if they wish and there is availability.
FAQs

What is footgolf?

Footgolf is a sport that is a cool fusion of football and golf. The object of the game is players take turns in kicking a football into a big hole (dustbin lid size) using only your feet in the fewest number of kicks.

How many teams can be entered per football team?
You can enter multiple teams of 4.
Will there be an adults tournament?
Yes, the aim is to run an adult tournament at the end of the day starting at 4:30pm.

Can family and friends come and watch?

Yes and the more the merrier.

Will others be allowed to stand on the course to watch?

We are happy for spectators to follow their own children around the course as long as they are not interfering with play. Alternatively you are more than welcome to hang out in our 18th Century Barn clubhouse.
What do the children need to bring?

A big smile. There isn't a dress code, but we would possibly expect players to wear their club kit or tracksuits. Players can wear football boots if they wish, but we find astro's or trainers more than suitable on our magnificent course.

Is the tournament suitable for all abilities?

Yes, absolutely. The beauty of footgolf is it's a real leveller, where there is no requirement to be the fastest or strongest or fittest. Perfect for all abilities.

Will there be food and drink available?

Our 18th Century Barn clubhouse has a range of Food & Drink to purchase. We even have a licensed bar for those of appropriate age.

Are footballs provided?

Yes, footballs will be provided, but you are more than welcome to bring your own

How do we get here by car/bus/train?
If you drive we have a free car park for you to use off Hangleton Lane.
Bus 6 and 5B come closest to the course
Closest train station is Portslade

How do I register for the tournament?
Hit the Register button on this page

If I put in the wrong information what do I do?
Keep Calm and Carry On 🙂 Dont panic, just give us a call and we will help sort it out

Will details be put on social media platforms?
Yes, we will put updates about the event on our social media pages

If the team pulls out will they get a refund?
Yes, up until 14 days before the event

Is the tournament likely to be cancelled?
We are keeping our fingers crossed that as we are an outdoor activity we dont get affected, but we are in the hands of the medical experts.

If a team member doesn't show up can they compete with 3?
No, a team must have 4 players

Will I be notified of the other teams participating in the tournament?
We may announce the teams taking part once we have confirmations

Is ID needed for registration?
No ID required for the kids, they will simply tell us their name and club and we will sign them in for the day

What if I am late to registration?
It is really important all players are present to register 15 minutes before the start times. We cant hold up the play to wait for late arrivals, so your team could be given a non-played hole score for each hole you miss.